4 days | 9,000 films | 3,700+ professionals

Our main area! Come & meet the 35 exhibiting countries this year. Welcome to the new ones!

The most efficient way to meet distributors and festival programmers.

Want to know what buyers are after? These talks will help you find your future distributors.

The best way to develop your network, enjoying a nice talk around breakfast or apero!

More than 8,000 films listed on the Market Videolibrary are accessible on video terminals.

Expand your knowledge with conferences about the industry top topics & trends.

Conferences, masterclass...

Contact professionals thanks to our database & schedule your meetings in our dedicated pro area.

Our exhibitors invite you to very special screenings to promote their latest talents!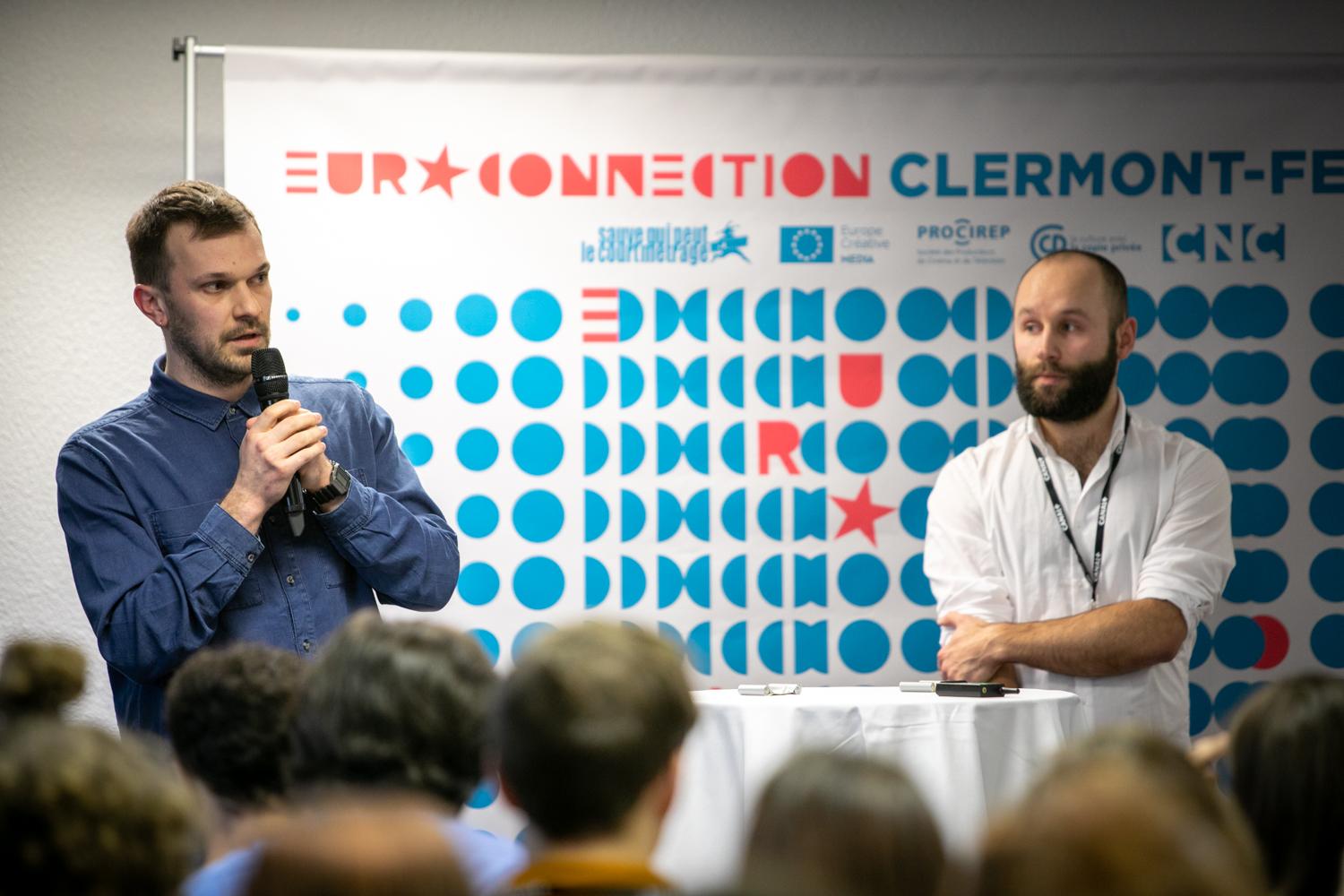 Euro Connection is the main platform for the co-production of short films. This two-day pitching and networking event aims at fostering partnerships between European and international production companies faround short film projects. The next edition will take place on Tuesday February 2nd and 3rd 2021, and will include pitching sessions, informal networking for producers and participants and one-on-one business meetings.
14 European projects will be carefully selected to be presented at the 13th edition of Euro Connection. A dozen producers will be also invited to be in the Producers Focus(the producers of the remaining finalist projects, outside the final selection, will be given priority invitations to be part of the Producers Focus). The Book of Projects and Producers 2020 will be available here early January.
The 2021 call for projects has been launched through our correspondants network on September 1st 2020 and will be opened until October 20th 2020.
May apply: 
short film projects (fiction, animation, creative documentary) under 30 minutes; 
presented by a production company located in one of the associated countries (see list below); 
for which partial funding has been granted by an external source (see details in form); 
for which a co-production partner in Europe is wanted; 
for which shooting/production shall start after June 2021;
whose producer commits to attend and pitch his/her project in case of selection. 
Countries associated to the 2021 edition are: Austria, Baltic countries, Belgium, Bulgaria, Croatia, Cyprus, Czech Republic, Denmark, Finland, France, Germany, Greece, Hungary, Iceland, Ireland, Italy, Luxembourg, Malta, Norway, North Macedonia, Netherland & Flemish Community, Poland, Portugal, Republic of Serbia, Romania, Slovakia, Slovenia, Spain, Sweden, United Kingdom.
In each country, the national correspondent sets up an expert committee who will nominate 1 finalist project. A European jury will then review all finalist projects and select up to 13 projects for Euro Connection. Additionally, the winner of the Baltic Pitching Forum will be selected to Euro Connection as a result from the partnership between these two events. 
In total, 14 carefully selected projects will be presented at Euro Connection 2021. Participants will be informed of results end of November, and selected projects will be announced on this site mid-January. 
Euro Connection revolves around: 
- Pitch training workshop (Monday 1 February 2021). 
- Pitching sessions in front of potential partners (Tuesday 2 February 2021). 
- Facilitated networking for producers and participants. 
- One-on-one business meetings (Wednesday 3 February 2021). 
Clermont-Ferrand accreditation holders wishing to attend Euro Connection pitching sessions will be able to book their seat using the online form available here from mid-January 2021. 150 industry delegates take part in Euro Connection each year.  
100 films were completed, including 51 international co-productions, as a result from the first 10 editions.
La Petite Fabrique 
International side of Euro Connection, La Petite Fabrique (in partnership with the Institut Français) will presents 5 international projects, selected with a call for projects to directors that have been previously selected to the Clermont-Ferrand Int' Short Film Festival. The next edition of La Petite Fabrique will be host in 2022.
Presented by the Clermont-Ferrand Short Film Market, in association with the Creative Europe MEDIA Desk France and the Centre national du cinéma et de l'image animée, Euro Connection receives support from Creative Europe's MEDIA sub-programme and the PROCIREP.
Read the Guide of short film production funds in European countries published by the MEDIA Desk France.
Renseignements:
euroconnection(at)clermont-filmfest.org / Tél.: +33 (0)4 73 14 73 22