Fernand Raynaud Award for Best Comedy 2019 / France

Télérama Press Prize 2019 / France

National CANAL+ Award 2019 / France

National Student Prize 2019 / France

Adami Award for Best Actress 2019 / France

SACD Award for Best First Live Action Short and Adami Award for Best Actor 2019 / France

SACD Award for Best French-Speaking Animation 2019 / France

Award for Best Original Score 2019 France

Equality and Diversity Award 2019 / France

National Audience Prize 2019 / France

National Special Jury Prize 2019 / France

National Grand Prix 2019 / France/Belgium/Netherlands

Festivals Connexion Award 2019 / United Kingdom/Taiwan/Colombia

Lab Audience Prize and CANAL+ Award 2019 / United States

Lab Special Jury Prize 2019 / France

Last Year When the Train Passed by

Lab Grand Prix and Award for Best Documentary 2019 / France

Allegorithmic Award for Best Visual Effects 2019 / New Zealand

International Student Prize 2019 / India

International Award for Best Animation / Germany

International Audience Prize 2019 / United States

International Special Jury Prize and CANAL+ Award 2019 / Greece

International Grand Prix 2019 / Romania

Clermont-Ferrand International Short Film Festival

42st edition from January 31st to 8th, 2020
L'Atelier | Temporary film school
Watch, Listen, Exchange, Practice!
Organized by Sauve qui peut le court métrage, the École nationale supérieure d'architecture of Clermont- Ferrand, the Groupe ESC Clermont and the École ARFIS of Villeurbanne, L'Atelier is a space for learning and creativity that is open to the public, as well as to film schools and other establishments that train students in image and sound. The purpose is to reveal, in a live setting, the secrets of how films are made.
For five days, a number of workshops will be put in place to show the many steps it takes to make a film and the numerous professionals needed:
• Shooting on a Set Workshop
• Directing Actors Workshop
• Creating Film Music Workshop
• Sound Mix Workshop
• Video Game and Movie Workshop
• Photo Studio Workshop
• Motion Capture Workshop
• Virtual Reality Workshop
• Mazing Bot and Augmented Reality Workshop
The following, in no particular order, will be present to share their know-how: the École nationale supérieure Louis-Lumière, the ARFIS of Villeurbanne, ArtFX of Montpellier, the National Conservatory of Music and Dance of Lyons, the Conservatory Emmanuel- Chabrier of Clermont-Fd, the École cantonale d'art of Lausanne, the DMA of the Lycée Descartes of Cournon and many others!
Les Petits Ateliers [The Little Workshops]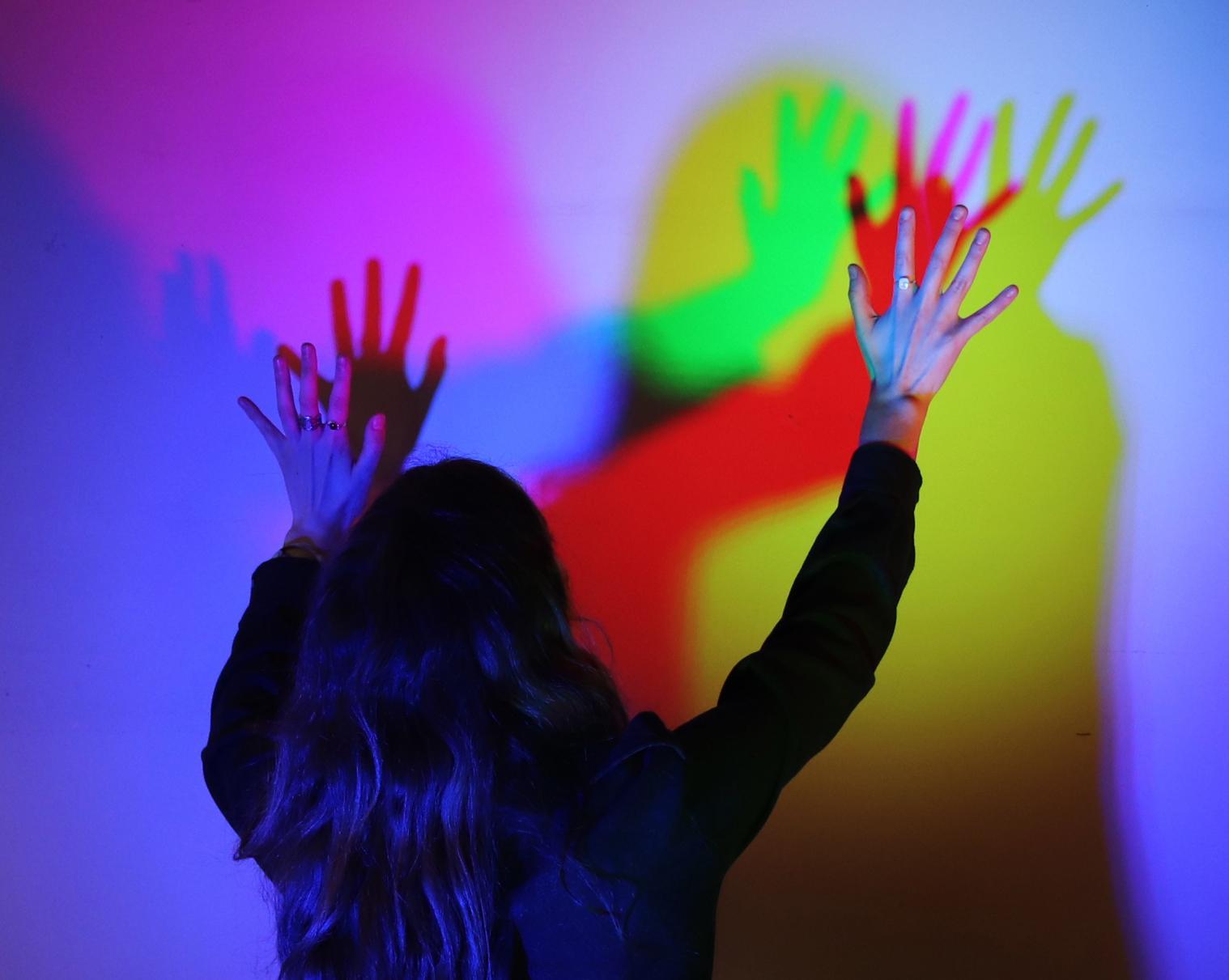 From Saturday 2 to Saturday 9 February 2019
9am to 12pm and 1:30pm to 6pm
Free and open to the public
Groups must reserve in advance:
04.73.14.73.30
Centre Camille Claudel
3 rue Maréchal-Joffre
Clermont-Ferrand
Play with lights, with colors, bring movement to images. Les Petits Ateliers will give children ages 2-11 the opportunity to slip inside the skin of Georges Méliès and become budding little film directors. Families and classes alike can come and discover how to create a story and how images come to life through the magic of pre-cinema and film animation. A playful space for experiencing film animation that is accessible to all. Have fun!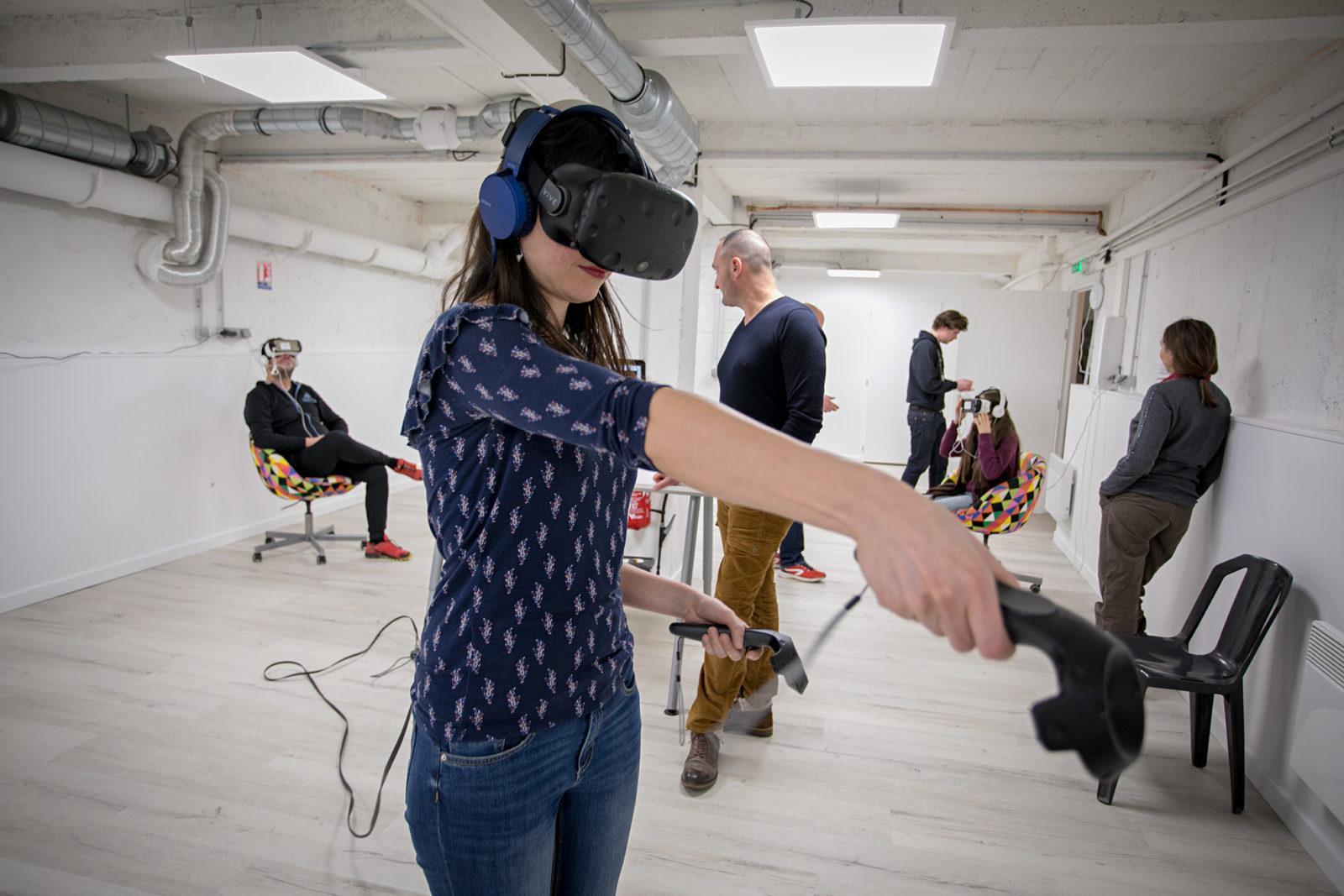 Saturday 2, Sunday 3 and Saturday 9 February 2019
10am to 12pm and 2pm to 5pm
The VR experience is free.
Reservations must be made in advance. Contact us by e-mail at y.meiffren@clermont-filmfest.org
Épicentre Factory
5 rue Saint-Dominique
Clermont-Ferrand
The Short Film Festival is offering a session of films in VR where viewers will simultaneously live the same experience.
In partnership with the Épicentre Factory.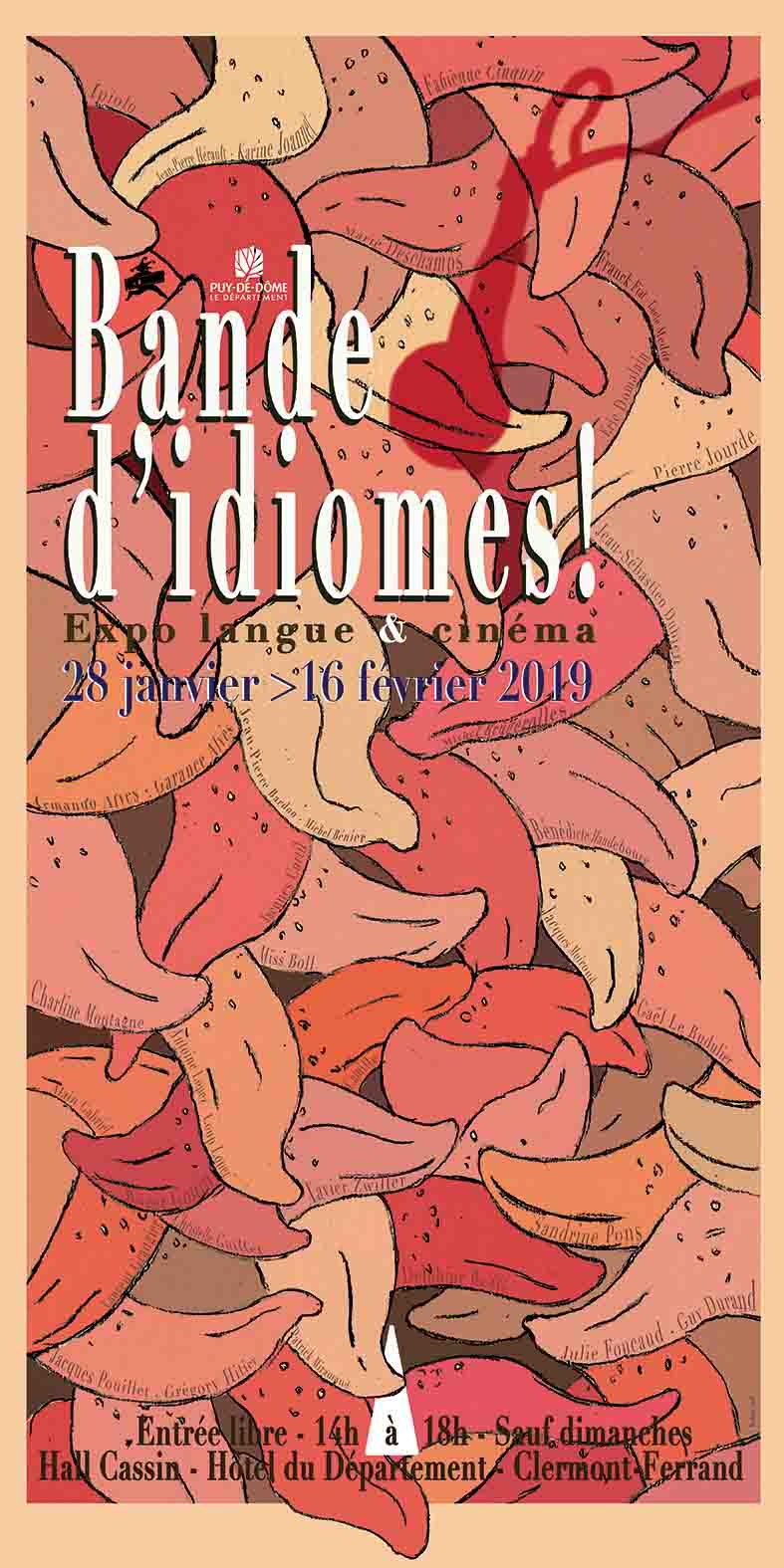 From 28th January to 16th February 2019
From 2pm to 6pm except Sundays
Pre-opening Saturday 2nd February at 6pm
Free and open to the public
Hall René-Cassin
Hôtel du département
24 rue Saint-Esprit
Clermont-Ferrand
Drawings, paintings, photos, sculptures, installations
This thematic exhibit, which is stuck onto the retrospective of that ilk, already has a long history. It first appeared in 1994 with the title Vous avez dit bozarts comme c'est être-ange with a theme of angels and other fowl. That first collective exhibit obviously invited local artists to produce works centered on the given theme, but also on cinema as a whole. It took ten years further before that practice became institutionalized. It's a wonderful collaboration between the world of film and the world of plastic arts, between the Festival and creators from around the area.
After angels, swimming pools, boxing, Christmas, superheroes, dogs, musicals, zombies, Little Red Riding Hood, flies, science, escape, cycling, space, dark humor and food, it's time to get lingual for the 17thedition – lingual as in language, but also lingual like the organ! Around thirty artists, painters, illustrators, sculptors, photographers, tinkerers of all sorts have dusted off their bilingual dictionaries like you'd dust off a book of spells; your tongues might be tied in knots but behold! there before you lies the translation to the philosopher's stone that will get the ox off your tongue or turn it silver again or sharpen it so that you can carve out your place in this verbal history. But jokes aside, this is just the exhibit to keep your tongue a-wagging!
These people have agreed to test your tongue:
Armando Alvès
Garance Alvès
Jean-Pierre Bardon
Michel Bénier
Miss Boll
Michel Brugerolles
Camille
Fabienne Cinquin
Jacques Curtil
Marie Deschamps
Eric Domalain
Jean-Sébastien Dubien
Guy Durand
Franck Fiat
Julie Foucaud
Alain Gabriel
Roger Gonin
Laurent Grangier
Christelle Guillet
Bénédicte Haudebourg
Jean-Pierre Hérault
Grégory Hitier
Ipiolo
Karine Joannet
Pierre Jourde
Gaël Le Rudulier
Antoine Lopez
Loup Lopez
Lucie Medda
Patrick Miramand
Jacques Moiroud
Charline Montagne
Sandrine Pons
Jacques Pouillet
Delphine Raiffé
Xavier Zwiller
Anatomie du labo [Anatomy of the Lab Competition] - 11th edition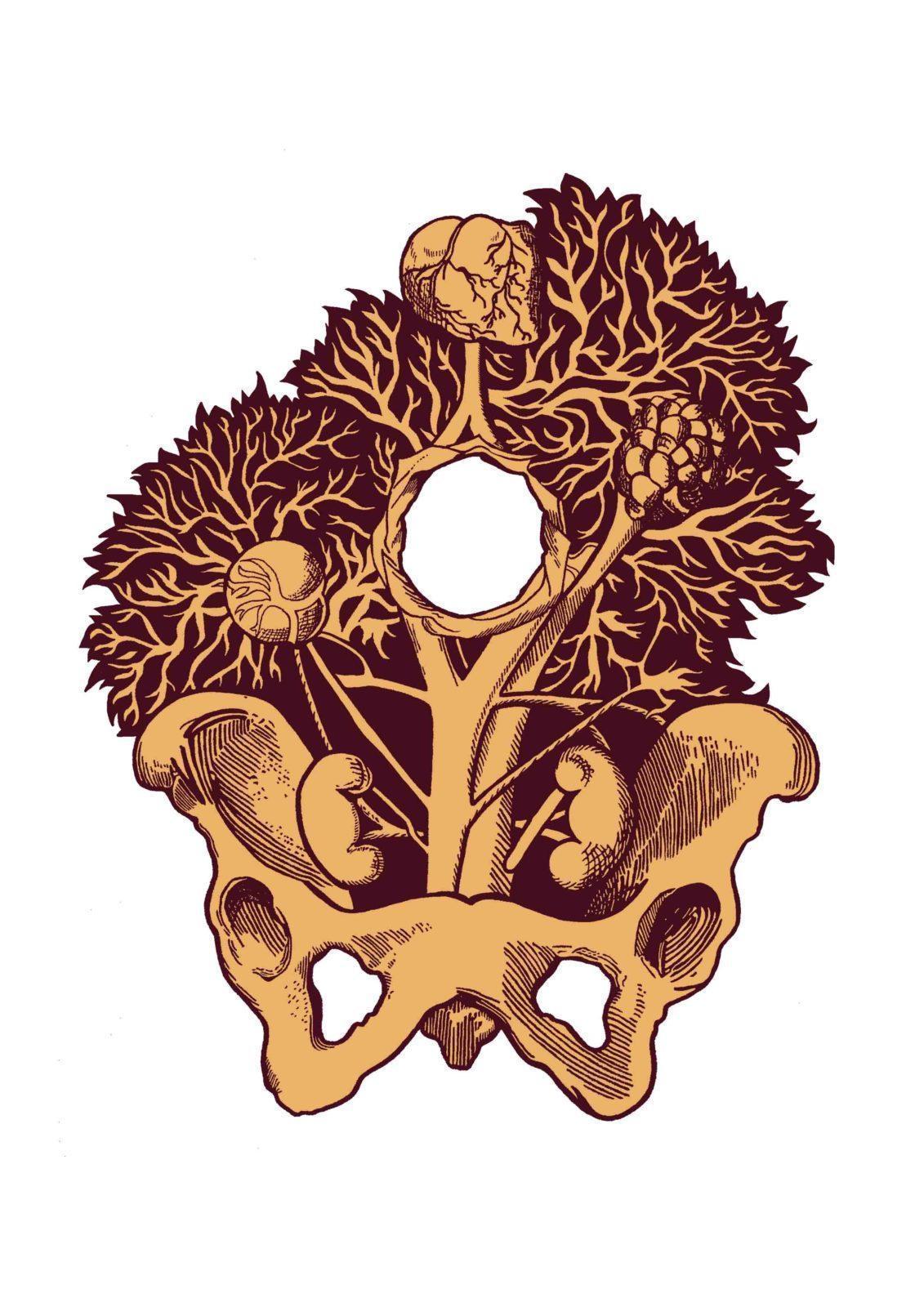 From 1st February to 16th February 2019
Monday to Saturday from 2pm to 7pm
Pre-opening Thursday 31st January 2019 at 6:30pm
Free and open to the public
Centre Camille Claudel
3 rue Maréchal-Joffre
Clermont-Ferrand
Contact: Badhia Bencheikh at the Centre Camille Claudel / 04 73 42 37 26 / bbencheikh@ville-clermont-ferrand.fr
Plastic arts
Perhaps you have a map that would help you situate yourself in the new cinematic territories "discovered" by the artists who made the short films in this year's Lab Competition? Or perhaps you prefer to journey from film to film without a personal GPS? We don't want you to get lost in a vacant lot and we're not planning on dumping you in a shopping area ; we'd rather invite you to think hard about the new geographical maps that will sketch the topography of our imminent future. Whether virtual (ever more realistic video games) or endangered (the environment), contemporary spaces are in such perpetual movement that their borders always need to been redrawn.
The notion of exploration (research) must therefore also be continually redefined as the 31 films in the Lab Competition circumscribe the creative playing field that is offered to young French artists. In fact, these artists will use different medias (silkscreen printing, sound creations and photographs) and they will be at the heart of a dialogue between the filmmaker and the spectator.
Three classes are participating in our 11thedition: Lyon's Design Textile/ESSA La Marinière-Diderot, Brioude-Bonnefont's agricultural high school and the vocational course in multi-media visual communication at Saint-Géraud d'Aurillac's communications high school.
The territory of the anatomical map never ceases to grow, for after stops at the Tabakalera in San Sebastian and at Regensburg's festival, this exhibit will grace the picture rails of other continents when invited to Havana and Montreal...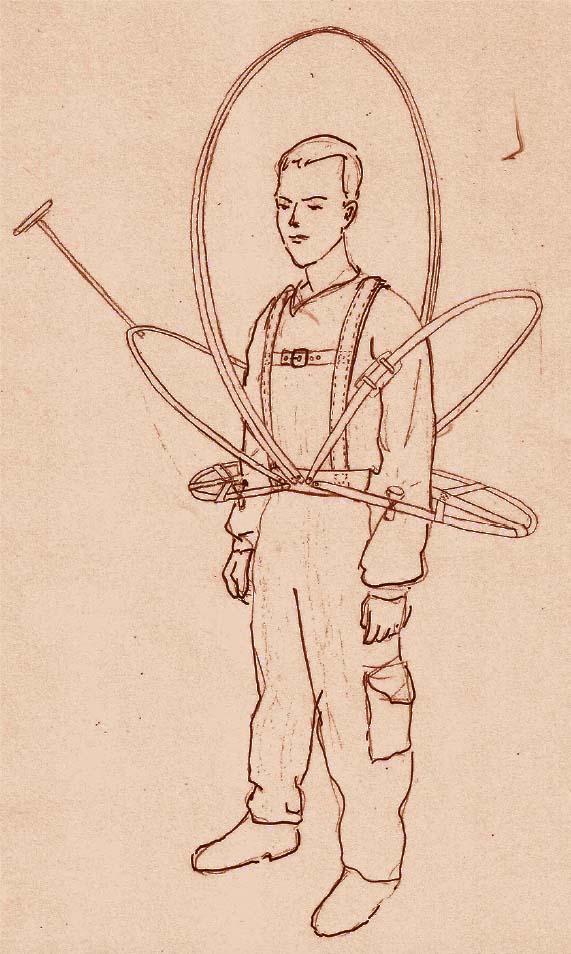 From 1st February to 9th February 2019
Maison de la Culture and Les Volcans bookshop
Boulevard François-Mitterrand
Clermont-Ferrand
Exhibit based on the films of Phillip Barker
The sorcerer's apprentice and Canadian filmmaker Phillip Barker loves to tell stories that put the laws of physics and the bodies of his actors to the test. His films continuously reinvent his characters' image, the image they project on the water (Soul Cages) or in the shadows (Shadow Nettes), through unexpected mechanisms for creating shots. Future costume designers, the DN MADE students specializing in entertainment at Lyon's La Marintière-Diderot high school were fascinated by Barker's world and, with his participation, developed five out-of-the-ordinary costumes with accessories that allow a camera to be attached. By scanning the QR codes for each one, you will see the costumes come to life and discover these suit-machines in action. To complete the journey through the films in the program Collections 1 (page. 216), you can see the origami and epistolary creations of the Taiwanese director Pang-Chuan Huang (who won the Lab grand prize in 2018 with the film Retour [Return]), and the drawings and illustrations of the local artists Cécile Gambini and LudChat who round out this exhibit.
On Saturday 9thFebruary at the Volcans bookshop, Phillip Barker will be signing copies of his book Strange Machines : The Films of Phillip Barker which details his life and artistic process (see the section "Rencontre publique").
The students' work was supervised by the teachers of the DN MADE entertainment at La Marintière-Diderot: François Mallet, Cécile Martin, Cécile Revon, Gaëlle Viémont and Vanessa Viscigliosi.
Jean Mascii, Fifty Years of Painting and Films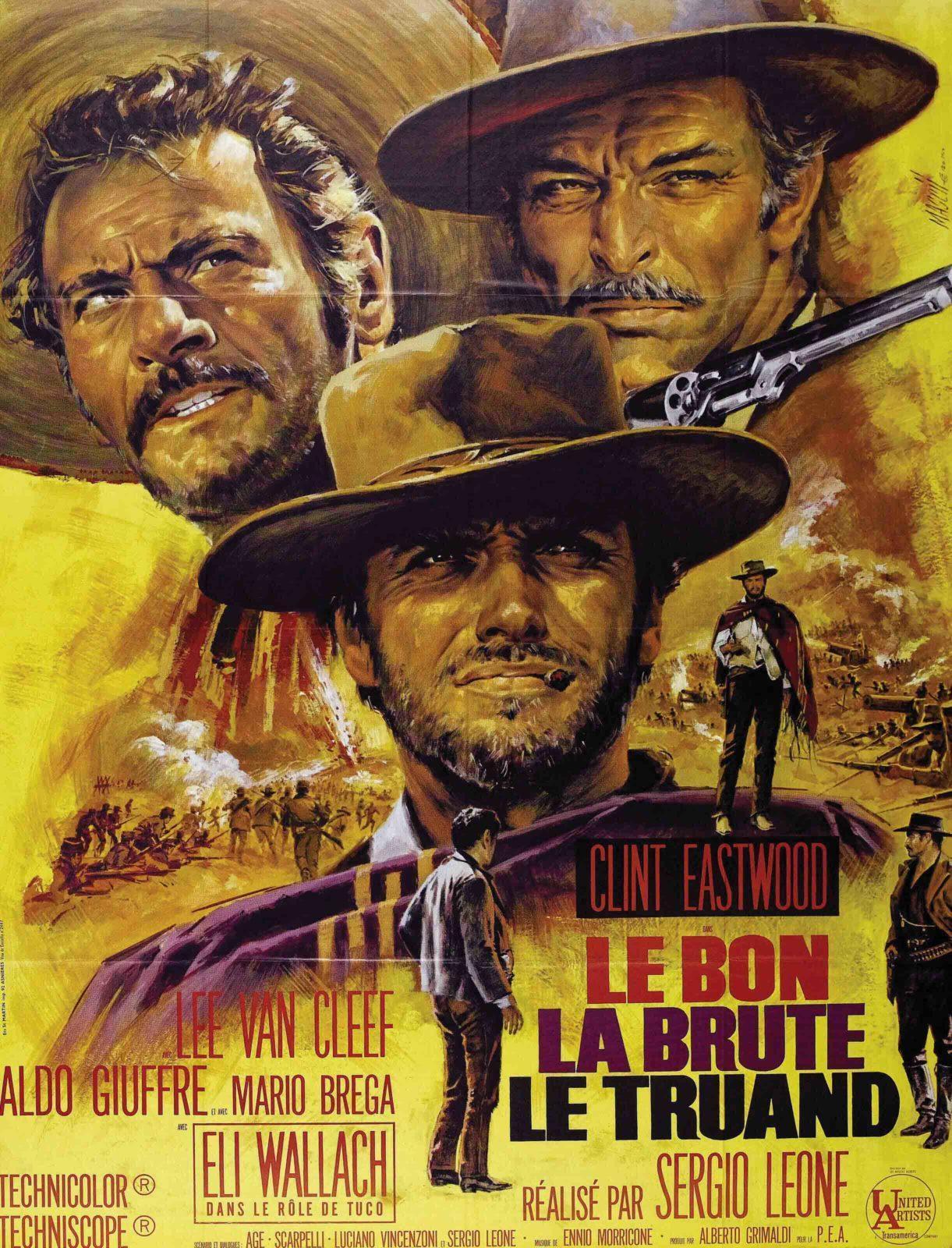 From 2nd to 28th February 2019
During the Festival: daily from 10 am to 7pm
Prior to the Festival: Tuesday, Wednesday, Thursday and Saturday from 1pm to 7pm
Free and open to the public
Centre de documentation de La Jetée
6 place Michel-de-L'Hospital - Clermont-Ferrand
For futher information:
bibliotheque.lajetee@clermontmetropole.eu
/ 04 73 14 73 02
Poster exhibit
A still image charged with selling moving images – film posters are an "art that runs parallel to the seventh art". Nowadays, they are often simply standardized photo montages, but they were once entrusted to talented painters and illustrators. Old posters are prized by collectors and are now the objects of exhibits.
Discover the art of movie posters through the work of Jean Mascii, a painter and illustrator, and one of the most prolific creators of movie posters.
He has created over 2,000 posters with accomplished skills in portraiture, sketching and composition. Some of the most famous posters are his work: Ace of Aces, The Good, the Bad and the Ugly, Goldfiner, Planet of the Apes... His works invite us magnificently towards adventure.
A selection of original posters, rare and never-before-seen documents (paintings and drafts, audiovisual archives) offer the opportunity to explore the work and art of one of the masters of poster-making during the second half of the 20th century.
The exhibit begins at the Documentation Center at La Jetée and extends to:
- Espace Victoire (Office de Tourisme métropolitain), Maison du tourisme, place de la Victoire, tel.: 04 73 98 65 00, open daily, opening hours can be found at clermontauvergnetourisme.com: large format posters
- médiathèque de Jaude, 9 place Louis Aragon, Tuesday through Saturday from 10am to 7pm: posters of films adapted from literary works
- in the libraries of the Patrimoine de Chamalières, Cournon, Croix-de-Neyrat and Beaumont. To learn more, come to the round table discussions on film posters following the screening of Jacque Demy's Lola, Saturday 16th February beginning at 4:30pm at La Jetée.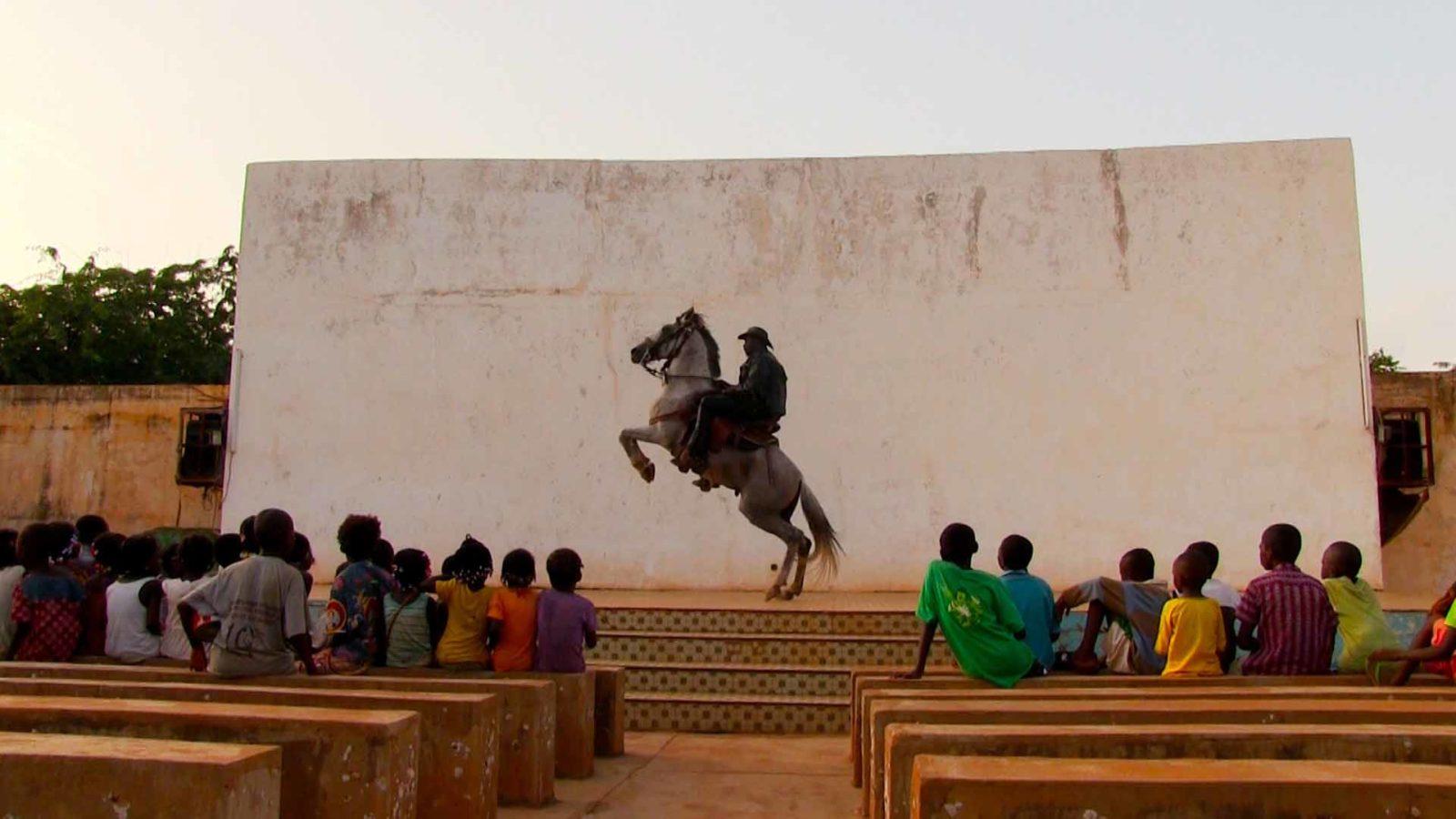 From 1st February to 22nd February 2019
During the Festival: daily from 9am to 10pm
Prior to the Festival : Monday through Friday from 9am to 4pm
Pre-opening: Saturday 2ndFebruary at 6:30pm (following both screenings of Regards d'Afrique)
Free and open to the public
Galerie Dolet - Résidence Étienne Dolet (1st floor)
25 rue Étienne Dolet
Clermont-Ferrand
crous-clermont.fr/culture/expos/
Exhibit of photos, costumes and etchings
Burkina Faso's blazon shows two stallions. Horse riders are a symbol of national pride and ancestral equestrian tradition. The inhabitants are also passionate about westerns. Some have nicknames like John Wayne, Sheriff, Billy the Kid, and many wear leather hats, cowboy boots and fringed vests. There is currently a resurgence in the western genre and Africa is appropriating the figure of the cowboy. Westerns describe a map of our shared imaginations, where Africa amply holds its own. African cowboys offer a re-writing of the world, a space for subversion. This exhibit brings together the work of three young French artists and accomplices of this unusual modern character.
Featured artists: Camille Grosperrin, Aurélien Gillier, Camille Varenne.
Commissioner: Camille Varenne
Poster for a Festival (14th edition)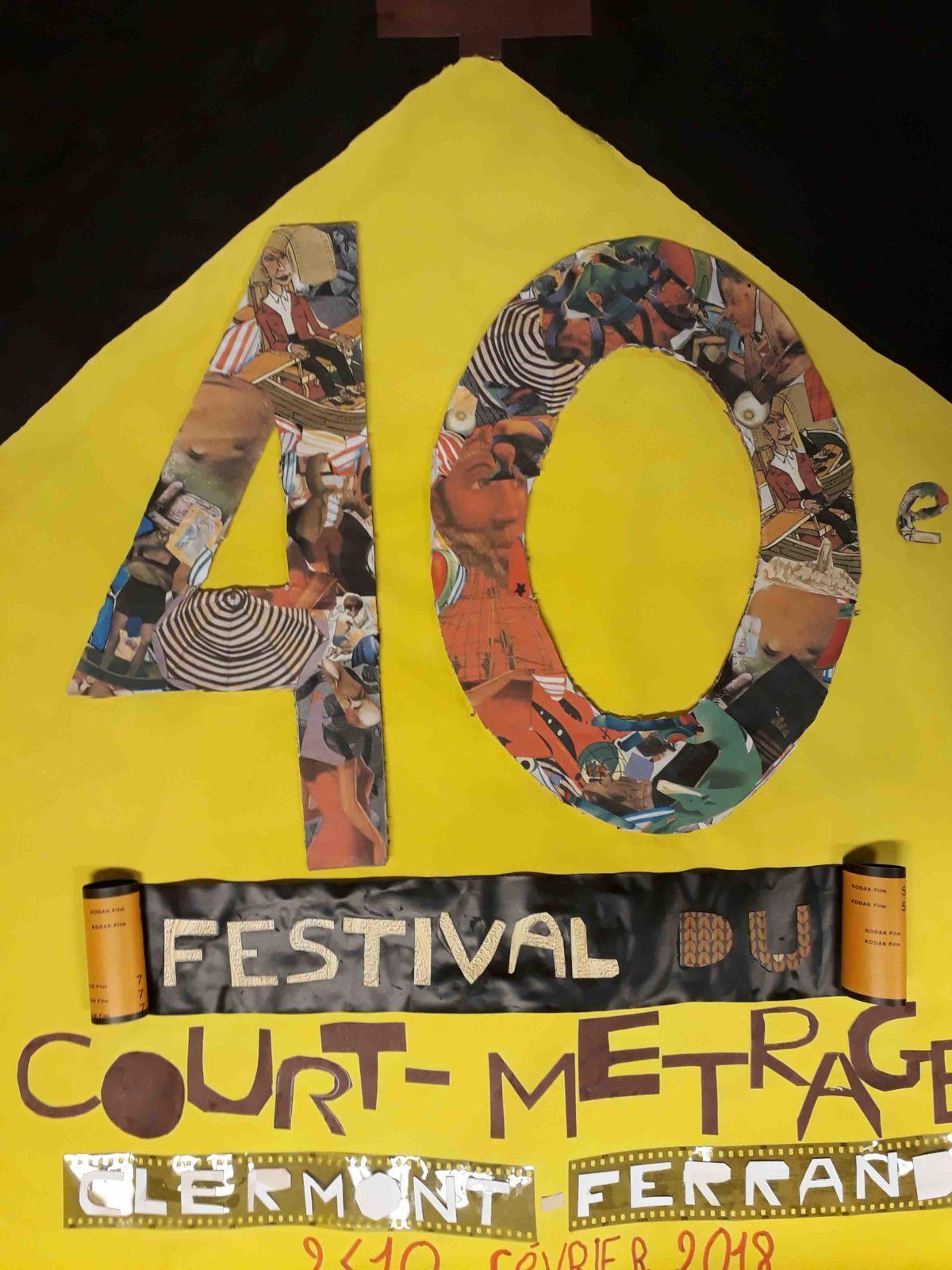 From 1st February to 9th February 2019
Free and open to the public
Résidence Universitaire Étienne Dolet (1st floor)
25 rue Étienne Dolet
Clermont-Ferrand
What if you could come up with the Festival poster... What would it look like? That's the offer we'll make to the schools of Livradois-Forez that are participating in the Cinémôme activities during the Festival. In an effort to prepare and highlight their arrival at the screenings, each class has the mission of creating a poster from the depths of their imagination. For our 14thedition, students from kindergarten to fifth grade and their teachers, were allowed to reinterpret or distort the official poster of the Festival, but also to delve into the world of Rémi Chayé, the creator of the 2019 poster, or even investigate the word "cinema". There will be no shortage of creativity in this exhibit!
This exhibit has been set up by Ciné Parc (a travelling theater in the natural reserve of the Livradois-Forez region) in conjunction with the cultural service of the CROUS and the participating schools.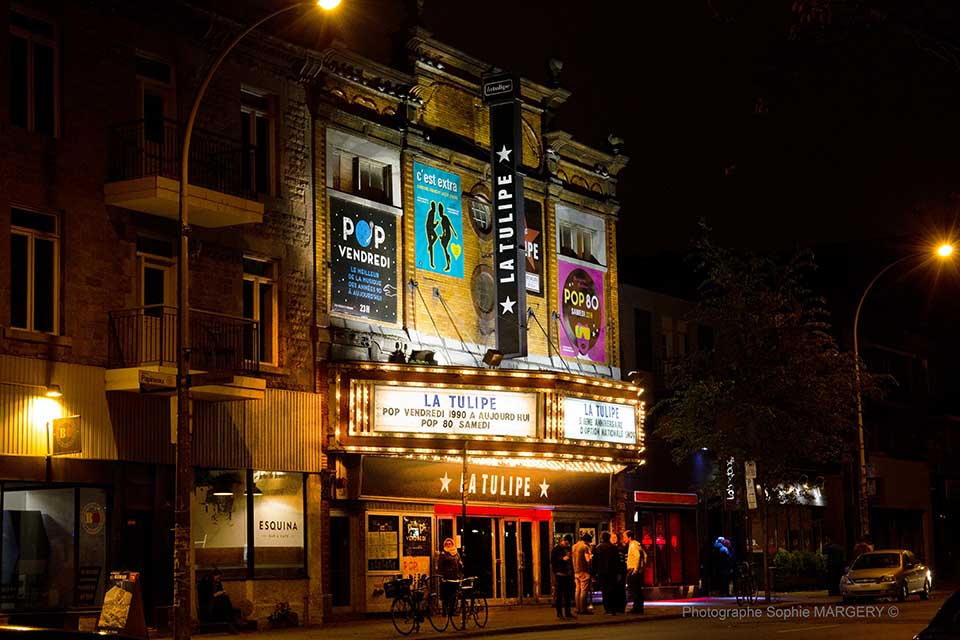 From 25th January to 16th February 2019
Open Tuesday through Saturday from 10am to 12:30pm and from 14:30pm to 7pm
Sunday 3rd February from 3pm to 7pm
Pre-opening on Friday 25th January at 6pm
Free and open to the public
Above the bookshop Nos Racines d'Augergne (in the ARTche room)
5 place de la Victoire
Clermont-Ferrand
Photographs of Canada
The Cercle Littéraire et Artistique Catherine-de-Médicis (Auvergne - Bourbonnais - Velay) and the bookshop Nos Racines d'Auvergne are celebrating Canada and the 41st Clermont-Ferrand International Short Film Festival with an exhibit of the artist-photographer Sophie Margery's work and a video conference with the author Paul Bélard.
Sophie Margery
Captivated by photography since her childhood, Margery decided to make it her calling. She began at a photography school in Lyon. After several reportages, a marriage and three children, she took up her camera once again on her many travels. She left to settle down in Montreal as an accredited photographer at the center of cultural events, marking the city's 375th anniversary.
Today, she has relocated to Clermont-Ferrand where she is an independent professional photographer, putting her years of experience at the service of entertainment, film, cultural events, tourism professionals as well as private clients.
www.photographesophiemargery.com
Video conference with Paul Bélard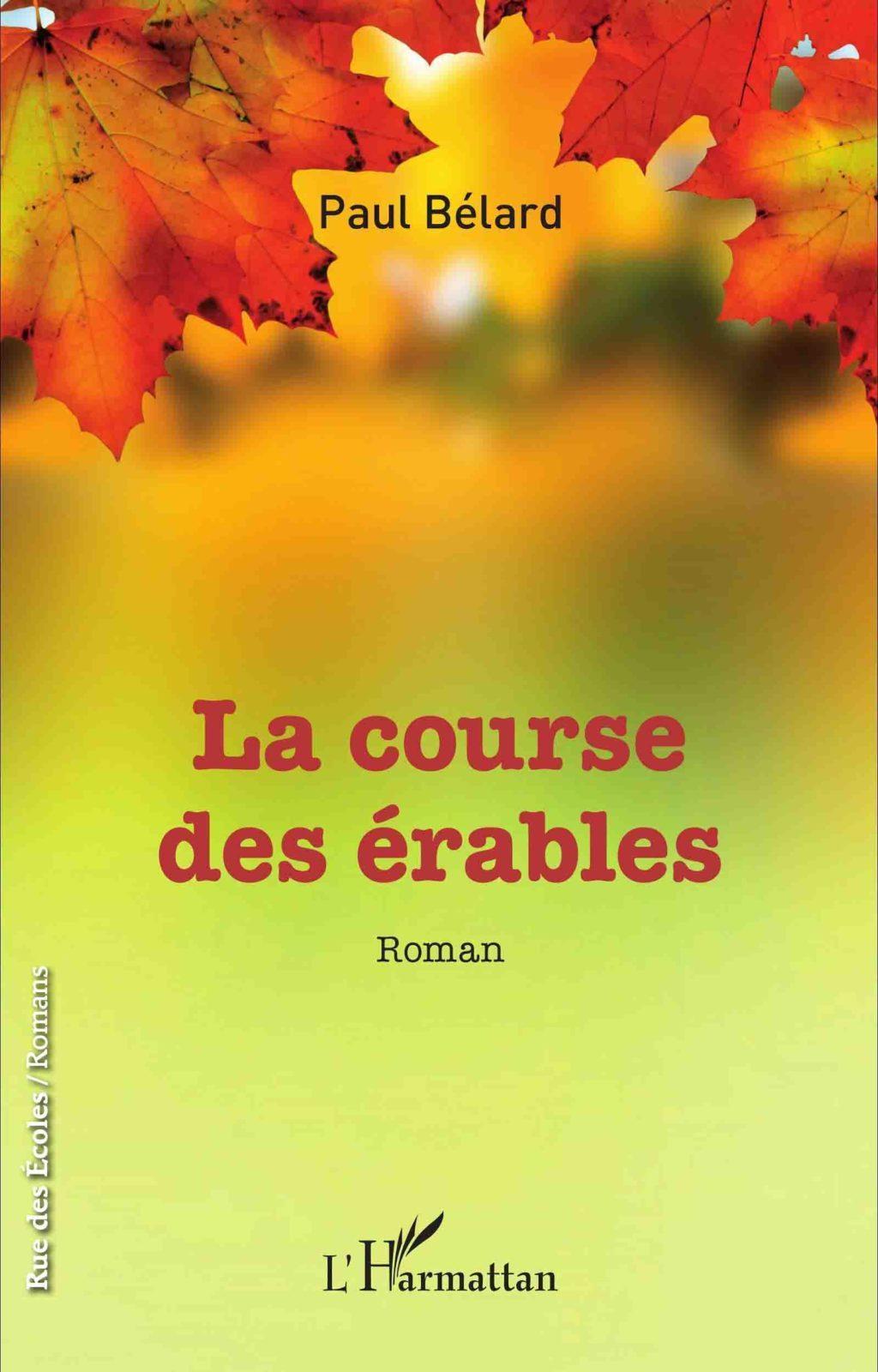 Wednesday 6th February 2019 at 4pm
Free and open to the public
Nos Racines d'Auvergne bookshop
5 place de la Victoire
Clermont-Ferrand
Author of the book La course des érables [The Maple Race]
The Cercle Littéraire et Artistique Catherine-de-Médicis (Auvergne - Bourbonnais - Velay) and the bookshop Nos Racines d'Auvergne are celebrating Canada and the 41st Clermont-Ferrand International Short Film Festival with an exhibit of photographs from the artist-photographer Sophie Margery and a video conference  with the author Paul Bélard.
Paul Bélard

Bélard's most recent novel, La course des érables [The Maple Race], is set in Canada, more specifically on a farm in Quebec. With great sensitivity, and also with humor, the author describes the life of Guy, a ten-year-old French boy, left mute and orphaned by WWII...
La course des érables won the 2018 Prix de la Francophonie from the Cercle Littéraire et Artistique Catherine-de-Médicis. Paul Bélard was born in the Cantal region of France and now lives in the United States. He has published four other novels in France and five art books in the US. Bélard is also the US Delegate to the Cercle Littéraire et Artistique Catherine-de-Médicis.
During the video conference, the author will discuss his book, and, through it, Canada and Quebec.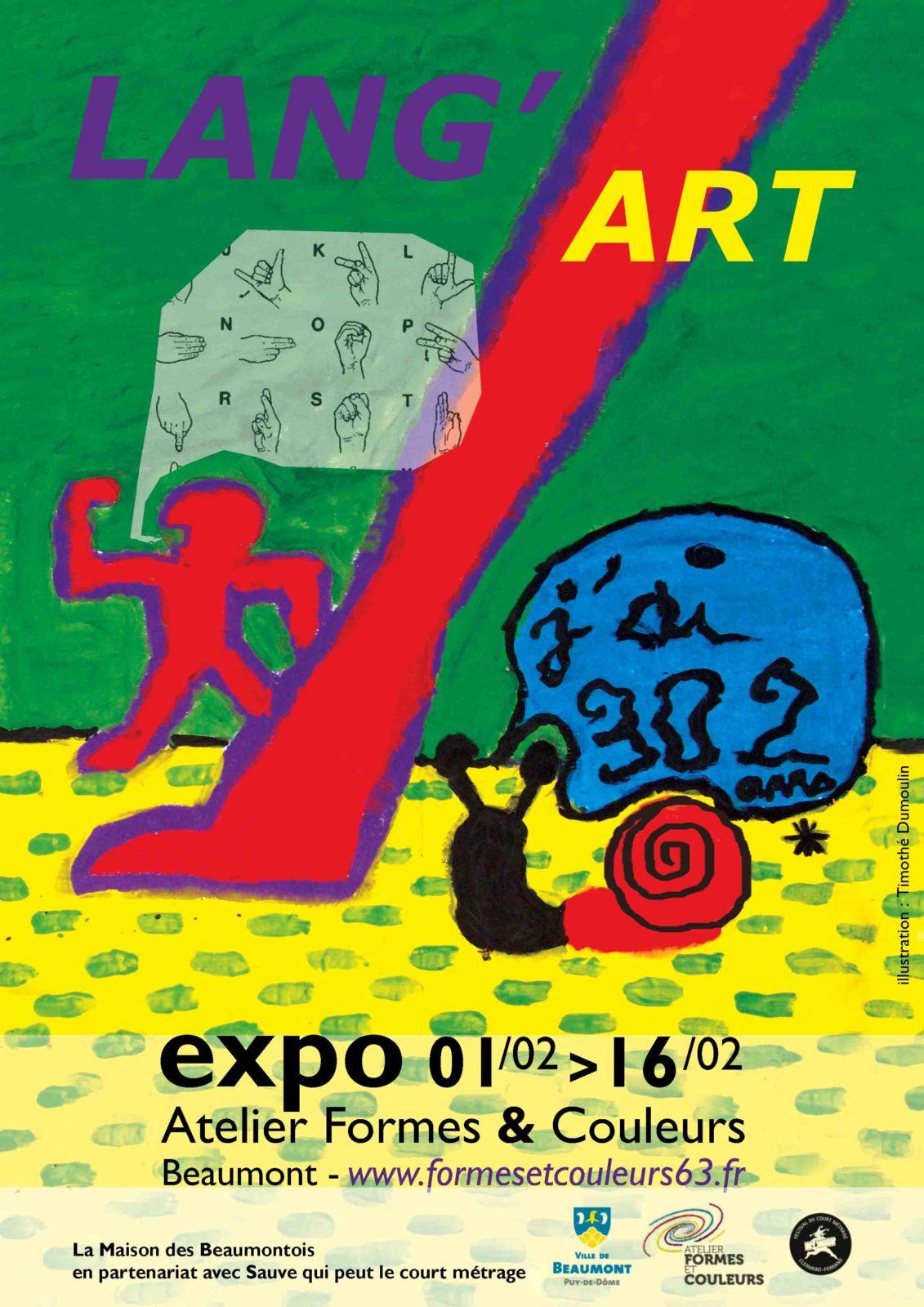 From 4th February to 15th February 2019
Monday and Wednesday from 2pm to 7pm, Tuesday, Thursday and Friday from 6pm to 8pm or by appointment
Free and open to the public
Atelier Formes et couleurs
Maison des Beaumontois
21 rue René Brut
63110 Beaumont
www.formesetcouleurs63.fr
06 79 73 15 87
Plastic arts
Let's be clear: children and adults really do converse with colors at the Atelier Formes et Couleurs in Beaumont. What do they talk about? Everything, nothing, feathers dreaming in the trees, films screened for them at La Jetée as a preview of the Short Film Festival. For who? For what? The ace of spades might tell you if you come to see the exhibit cadavre exquis during the Festival, at the workshop of the Maison des Beaumontois. But make no mistake: not everything will be revealed.
Presse nationale et internationale